Oriental Hotel Hiroshima's ?GOLDEN BREAKFAST?
The Golden Breakfast, to wake up the healthy way!
Eat breakfast like a king, lunch like a prince, and dinner like a pauper. (French proverb) As we all know, breakfast is the key of the day. Start your new day with our well-selected breakfast. Chef lovingly prepare healthier and locally-produced foods. The way to start a new day off right is with a healthy, nutritious breakfast, which is why we offer the Golden Breakfast in addition to our standard Japanese- and Western-style buffet spreads. The Golden Breakfast brings the chef to center stage, preparing popular Japanese and Western-style menu right before your eyes. Try this delicious way to get ready for another day of fun!
Breakfast Menus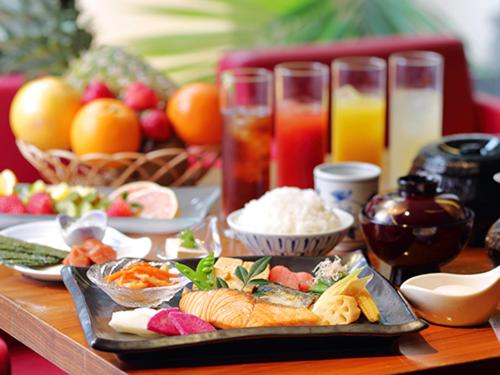 Western Style (standard menu)
Bacon, hot vegetables, okonomi-yaki, roast ham, sausage, corn flakes, fruit, 6-variety salad bar (dressings: apple cider vinegar, virgin olive oil, French, Cobb salad, chef?s original Japanese), 7 types of bread (butter, jam, marmalade, maple syrup, black sesame paste), Hiroshima yogurt (toppings: aloe, mango
Japanese Style (standard menu)
Rice gruel, rice, natto, Japanese-style egg, asst. side dishes, (toppings: pickles, Aoshiba laver, laver, asst. sprinkles, umeboshi sour plum), miso soupDrink Bar
Espresso, coffee, café latte, black tea, milk, orange juice, grapefruit juice, grape vinegar drink, tomato juice, Hiroshima mineral water, hoji-cha (roasted tea), etc.
Hours 7:00am to 10:00am
Seats 74
Price
Adult ¥2,138
6?12 years old ¥1,300
4?5 years old ¥600
under 3 years old freeBreakfast
Information
Location 1st floor
Seats  74 
Cuisine Western & Japanese Buffet
Restauran Restaurant & Bar NEW YORK CAFE
Close Up Foodstuffs!!
Fuchu Miso Soup
Made with domestic rice and other ingredients, and prepared with a traditional fermentation process to bring out all the rich aroma and flavor. This additive-free miso is fermented naturally and not heat-treated, to retain all the natural goodness.

Koshihikari Rice from Tojo, Shobara City
Koshihikari rice grown in the Tojo highlands, watered with the clear waters from 1269-meter tall Mt. Dogo and the wild Chugoku mountains. A delicious combination of softness, stickiness, and sweetness, cooked to aromatic perfection.

Satsuma-age deep-fried fish wrapped in Hiroshimana leaves
Fish paste is carefully wrapped in Hiroshimana (a kind of Chinese cabbage), and cooked with our exclusive recipe to juicy, crunchy delight. Try it with ginger soy sauce!